Custom Wedding Invitations
Create a unique wedding invitation for your special day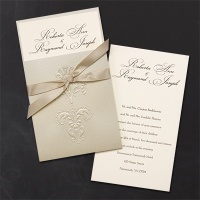 Embellished
An embossed flourish and a pretty ribbon are the perfect embellishments! The embossed, gold shimmer wrap surrounds an ecru inside card printed with wording as shown.
$389.00 per 100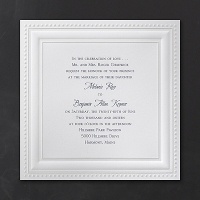 Bright White Squares
A bright white, square invitation card features pearlized straight-line borders around your wording with a square-dot design border outlining the outer edge.
$187.90 per 100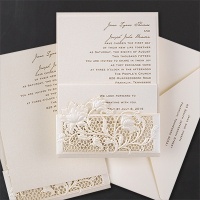 Exquisite Floral Window
A delicate latte shimmer pocket, with an intricate floral die-cut at the bottom, holds a matching latte shimmer invitation and enclosure cards.
$464.00 per 100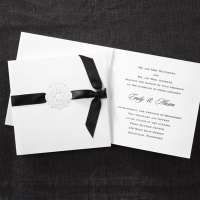 The Gift
A detailed round pearl design is centered on the front of this invitation with a black satin ribbon streaming through it.
$385.00 per 100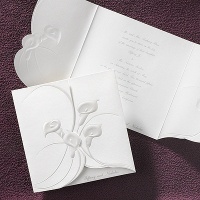 Ultimate Calla Lilies
A white, gate-fold invitation features an embossed, pearl, calla lily design.
$254.00 per 100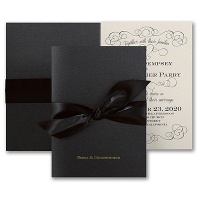 Midnight Passion
The wording "Together with their families", along with a lovely design, surrounds your wording on this ecru shimmer invitation and is enclosed with a black pocket wrap and satin ribbon.
$393.90 per 100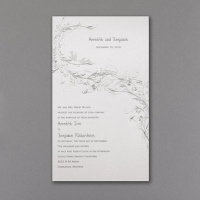 Silver Vines
Flowing silver vines sweep across this white shimmer invitation and feature two love birds on a branch.
$199.90 per 100
Wrap Surprise
Surprise your guests with this wrap invitation! The unique wrap invitation will stun your guests with a beautiful floral swirl design accented with a satin bow to reveal your invitation inside.
$299.90 per 100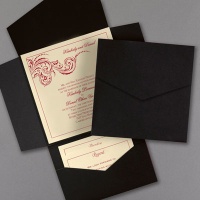 Black and Ecru Pocket
Black and ecru are combined to form this striking pocket invitation. The ecru card will feature all of your wording with an elegant, filigree design sweeping across the top. Coordinating respond and reception cards will feature a similar design. "Respond" and "Reception" will always be printed for headings on enclosures.
$246.90 per 100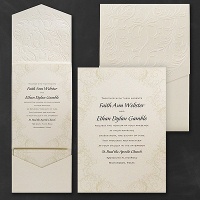 Baroque Brilliance
From the ecru shimmer pocket to the baroque patterned invitation, classic elegance is at its peak.
$393.90 per 100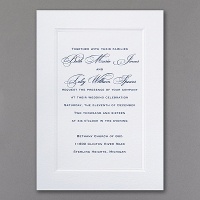 Bordered in Bright White
This bright white invitation card can be customized with your choice of typestyle, ink color and wedding day wording.
$120.90 per 100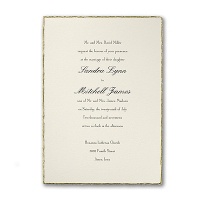 Deckled in Gold
This ecru invitation with golden deckled edges will announce any occasion beautifully.
$195.90 per 100
Home
Copyright © 2019 Customweddinginvitations.biz - All Rights Reserved - Date: 9/20/2019